This very handsome CHOCOLATE BICOLOR RAGDOLL
was born March 16, 2012.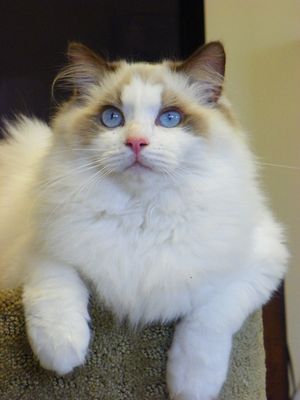 His mother is Lionsroyale Sheena (Chocolate Lynx Point mitted)
and his father is Raggaroyale Sir Georgio (Blue Bicolor).

We call him YOGI BEAR right now but it's not official. 

We are considering names that everyone agrees will suit him.

Yogi is DNA tested to prove his Chocolate color.  When he was a baby
I thought he was seal but he just didn't have the right body or tail color.

We were thrilled to find that he was indeed chocolate!

Yogi had been offered as a pet when he was young but there was just
something about him. I held him back for a bit to see how he'd develop.

He was offered for sale as a show/breeder or show/pet but the right home
never materialized. 

As he matured I started thinking that I must be crazy!! Why would I want to
sell this stunning boy and then try to find another that had these same
qualities??

So Yogi Bear is staying and I look forward to seeing what this home grown
boy will produce for our chocolate/lilac program.

He's a stunning young male, very good substance to him.  Excellent conformation.
His coat is incredible, good profile, lovely eyes.  He's almost perfect in his markings
for show.
Find more info on Chocolate Ragdolls
Chocolate Bicolor Ragdoll male
Email Lions Royale Ragdolls