Welcome to the Ragdoll Lions Den...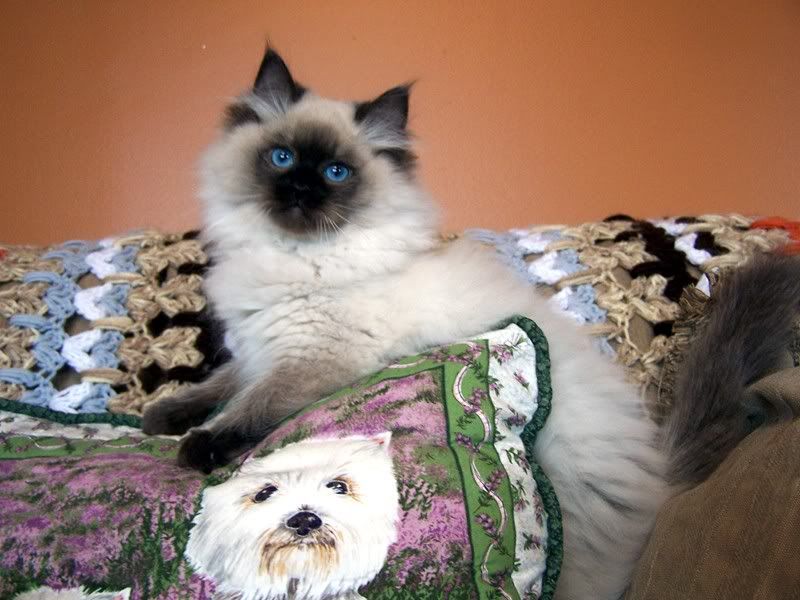 Home of Lions Royale Ragdoll Cattery
My name is Blossom Cheverie.  I have been a Ragdoll
cat breeder near Kingston, Ontario Canada since
March 2006.

As a conscientious Ragdoll breeder, I strive to offer
the best Ragdoll kittens possible.

Please click LOLA below to read more about
us and what we offer with each of our wonderful
kittens!


(CH Lionsroyale Ladybird Lola Legend as a kitten)
My goal in breeding is to continue to improve the quality
of the Ragdoll cats produced, according to the Ragdoll
breed standard.


(Double Grand Champion Lionsroyale Blossom of Elonadolls
Blue Bicolor kitten, daughter of CCA Champion Aslan x CCA Champion Lola)
Please visit the Ragdoll Cat Breeder list to see in which
countries our Ragdoll show cats now reside and the titles
they have earned.
(Supreme Champion Lionsroyale Horatio Caine Baron shown above -
Red Bicolor - son of CCA Champion Aslan x Cameodolls Rosie)
Take a peek inside the Lions Royale Ragdoll Lions Den
here:  RAGDOLL LIONS DEN

Another member of the family is our very respectful
West Highland White Terrier named Paddington Bear.
She's almost 13 years old now (in September 2013).

Paddy is the honorary Ragdoll Den Mother.
Paddington is actually a female with a boys name
because she's a Tom Boy at heart.
Take the time to learn more about the Ragdoll breed  in general.

Learn about the variety of colors and patterns

We may not always have a Ragdoll kitten or cat available, 
but our resident Ragdolls are wonderful ambassadors 
of the breed. 

If I don't have what you are looking for, I may even be
able to direct you to other breeders with Ragdoll kittens 
for sale that I can highly recommend.
Changes coming for 2014

Watch for some exciting additions to the site soon!
 
Ragdoll Club Membership
Lions Royale Ragdoll Cattery is registered with:
CFA
(Cat Fanciers Association)

TICA
(The International Cat Association)

CCA
(Canadian Cat Association)


Member of the following Ragdoll Breed Clubs:
RFCI
(Ragdoll Fanciers Club International)

RFW
(Ragdoll Fanciers Worldwide)

RAG
(Ragdolls of America Group) and

RI
(Ragdoll International)  

... in a Rainbow of Colors
Lions Royale Ragdolls are always blue-eyed
pointed Cats in these accepted colors:
Traditional Blue and Seal

Elegant Cream or Red (also called Flame)

Endearing Blue or Seal Tortie

Sophisticated Chocolate and Lilac

Stunning Lilac Tortie and Chocolate Tortie 
More details and photos of each color
and pattern can be found in the
Ragdoll Color/Pattern Page
Send an Email to Lions Royale Ragdolls
Ragdoll Cat & Kitten Breeder Ontario
Ragdoll Cattery, Ontario Canada,
specializing in rare chocolate ragdolls and
rare lilac ragdolls.
Ragdoll kittens for sale in all pointed, blue-eyed
colors.

PRIVACY POLICY 2012
You are visitor number: 456355