Welcome to the Ragdoll Lions Den...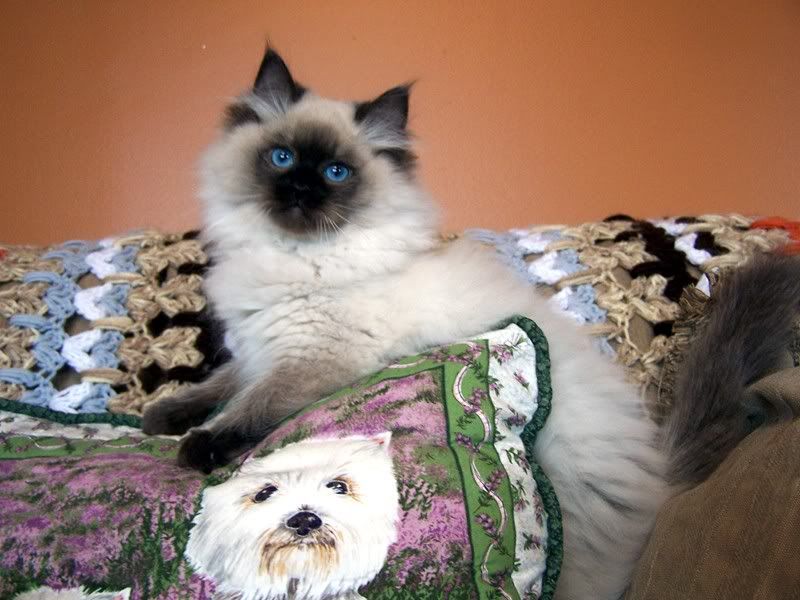 Home of Lions Royale Ragdoll Cattery
My name is Blossom Cheverie.  I have been a Ragdoll
cat breeder near Kingston, Ontario Canada since
March 2006.

We are in a very convenient location for delivering
our Ragdoll kittens to Toronto, Montreal, Ottawa and
into the United States if families can't visit in person. 

As a conscientious Ragdoll breeder, I strive to offer
the best Ragdoll kittens possible.

I offer extensive health guarantees for your peace of
mind and I am proud to stand behind every
Ragdoll that is adopted, no matter their age.



(CH Lionsroyale Ladybird Lola Legend as a kitten)

It's important to me that you and your new
Ragdoll are happy together for many, many
years to come.

Socialization is a very important part of my Ragdoll
breeding program.



(Lola - Seal Colorpoint Ragdoll - with one of our
Lymestone Westie pups)

Many commonly asked questions about our Ragdoll
health guarantees and policies are answered for you
on my FAQs page.  

Below are a few of the things offered at Lions Royale
Ragdoll Cattery.
My goal in breeding is to continue to improve the quality
of the Ragdoll cats produced, according to the Ragdoll
breed standard.



(Double Grand Champion Lionsroyale Blossom of Elonadolls
Blue Bicolor kitten, daughter of CCA Champion Aslan x CCA Champion Lola)

As a member of the CFA Ragdoll Breed Council (2010-2012)
I am striving to produce Show quality Ragdolls that will
represent the breed very well in different cat associations
and cat show venues world-wide.

I am happy to report that Lions Royale Ragdolls have had
very good success in the show ring!  This wouldn't have been
possible without their dedicated owners and catteries that
have promoted our Ragdolls extensively.

Please visit the Ragdoll Cat Breeder list to see in which
countries our Ragdoll show cats now reside and the titles
they have earned.


I can't thank their owners enough for promoting their 
wonderful Lionsroyale Ragdoll kitties in the show hall. 
They have made me very proud!



(Supreme Champion Lionsroyale Horatio Caine Baron shown above -
Red Bicolor - son of CCA Champion Aslan x Cameodolls Rosie)

Please visit our Happy Families page to see
Lions Royale ragdoll kittens in their new homes.

Many families are a multi-cat household.
They have come back to Lions Royale Ragdolls and
adopted one and even two or three more kittens from us!

You can read more about the inclusions and guarantees
on the various pages of my website.

Together with my husband Dave; who has been very tolerant
of my passion for Ragdolls and Westies over
the past almost 19 years of marriage; we raise these
magnificent, gentle, lion-like Ragdoll Cats in our home.

We call this the 'Ragdoll Lions Den'! 

It seems a fitting name with all the Ragdoll mini lions strolling
around, stalking toys, lounging on the furniture, yawning
wide and stretching after a long nap in the sun, scratching
on their posts and chasing one another about the house.


Take a peek inside the Lions Royale Ragdoll Lions Den
here:  RAGDOLL LIONS DEN

A visit to see our Ragdolls or to have a Ragdoll delivered
to you is always an option.




Dave is the one who does most of the Ragdoll cat and kitten
deliveries.  He travels all over the United States and Ontario
to bring our Ragdoll cats and kittens to their new homes.

We can arrange to travel the full distance to you or meet
partway to lower the delivery cost.



(Dave delivering a RED (flame) ragdoll - a welcome surprise
anniversary gift - to Val from her husband Harold)

Another member of the family is our very respectful
West Highland White Terrier named Paddington Bear.
She's 12 years old now. Paddy is the honorary Ragdoll

den mother.


Paddington is actually a female with a boys name
because she's a Tom Boy at heart.

She's great with all the wonderful Ragdoll cats and kittens
but gets a bit overwhelmed when the whole crew is ripping
and tearing around the house. 

(Blue Colorpoint kittens from one of our first litters!)

I welcome visitors to my home to experience
the incredible personality of the Ragdoll cat. 




If you are seriously considering adopting a Ragdoll kitty for your
family or yourself, come and be hands on with our
resident Ragdolls.

Cuddle and play with them.  Take the time to learn more
about the Ragdoll breed  in general.

Learn about the variety of colors and patterns and have your
Ragdoll cat questions answered.

A big responsibility for a breeder is to be available
and take the time to educate people about their
chosen breed. 

We may not always have a Ragdoll kitten or cat available, 
but our resident Ragdolls are wonderful ambassadors 
of the breed. 

If I don't have what you are looking for, I may even be
able to direct you to other breeders with Ragdoll kittens 
for sale that I can highly recommend.



(Lionsroyale Jypsy Queen - Seal Tortie Point Ragdoll -
featured in February 2012 of the Ragdolls Illustrated Calendar)

Lions Royale Ragdolls are bred for 

health

as well as 
qualities that truly define the
Ragdoll Cat breed
.
Phoebe - have toys, will travel
Ragdoll Club Membership
Lions Royale Ragdoll Cattery is registered with:
CFA
(Cat Fanciers Association)

TICA
(The International Cat Association)

CCA
(Canadian Cat Association)


Member of the following Ragdoll Breed Clubs:
RFCI
(Ragdoll Fanciers Club International)

RFW
(Ragdoll Fanciers Worldwide)

RAG
(Ragdolls of America Group) and

RI
(Ragdoll International)  

Lions Royale Ragdolls Foundation
Lions Royale Ragdoll Cats and Kittens have
outstanding Bloodlines! 


Proudly carrying the foundation line
  Raggedy Ann

and Champion bloodlines from around the world
including:

Blossom-Time

Petil-Lu

Dandenong

Mourningdove

Sugarpaw

Hemlock Trails

Ragmar

Sheyenne

Dollhouse

Rags2Riches

Purrla

and many more outstanding lines! 



 
Happy, Healthy Ragdoll Guarantee
At Lions Royale Ragdoll Cattery, I strive for 100%
satisfaction when a Ragdoll kitten is adopted.

For your peace of mind I offer you:

5 year GENETIC HEALTH GUARANTEE

2 year FIP (

Feline Infectious Peritonitus

) guarantee

6 weeks complimentary insurance from

PetSecure

Kitten kit including food, bed, familiar toys and more

Care instructions and training information

Additional 72 hour health warranty/replacement

Lifetime support in care and training

Lifetime return policy if unable to keep your Ragdoll

Toll Free Number for the US and Canada
More details on these guarantees and policies can be
found here:
Guarantees
... in a Rainbow of Colors
Lions Royale Ragdolls are always blue-eyed
pointed Cats in these accepted colors:

Traditional Blue and Seal

Elegant Cream or Red (also called Flame)

Endearing Blue or Seal Tortie

Sophisticated Chocolate and Lilac

Stunning Lilac Tortie and Chocolate Tortie 
More details and photos of each color
and pattern can be found in the
Ragdoll Color/Pattern Page
All Patterns Available:
Colorpoint (no white)

Mitted (white feet/legs/belly/chin/chest)

Bicolor (inverted V on face, the most white)

Lynx (Tabby striping) in any color

Torties (similar to calico/tortoiseshell) 

Torbies same as Tortie but with Lynx/Tabby striping
Ragdolls are fun to share!
Our special little Ragdoll kittens are lovingly home raised
and socialized with other cats as well as our Westie and,
of course, visitors of all ages.
(Blue Point Ragdoll kitten shown above)
My little nephew Bert loves to play with the kittens
and it's great for them to be exposed to a small child
since we don't have any of our own.

Now we have a new little niece that will soon be
enjoying the kittens as well. Welcome to the family
baby Jorja! The kittens are looking forward to playing
with you too.
(Resident Mary with Tiffy aka 'Tigger' - seal lynx point
mitted ragdoll - now a spayed pet)
You will often find me visiting at the nursing home,
with kittens in tow, a couple hours away where my
mom resides.

It's a great way to get kittens used to traveling
and socializing.

Everyone enjoys themselves! There's no better way
to put a smile on a face than to share the love of a kitten.
Not very many kitties come to visit residents so it's quite
a treat to be able to do this.

Willow Sloan
Send an Email to Lions Royale Ragdolls
You are visitor number: 444871
Ragdoll Cat & Kitten Breeder Ontario
Ragdoll Cattery, Ontario Canada,
specializing in rare chocolate ragdolls and
rare lilac ragdolls.
Ragdoll kittens for sale in all pointed, blue-eyed
colors.

PRIVACY POLICY 2012